OnlyFans is a social media platform that allows fans to pay their favorite celebrities or influencers for exclusive content. It can be used by both the fan and the influencer. If you want to find someone on OnlyFans, here is the place you can find helpful information. With the tips listed here, you will know if the person you want to find is currently active or not on OnlyFans.
Search the OnlyFans profile with a username
If you happen to know the username they commonly use on other social media, you can try searching it on OnlyFans. To do this, on your web browser address bar, type the following:
https://onlyfans.com/(username)

Then press Enter.
If you are redirected to a valid profile page, chances are this is the one you've been looking for.
But if not, don't worry! There are other methods for you to try…
Search the OnlyFans profile on Google
Another thing you can try is to use Google. It can help you find out if someone is on OnlyFans.
To utilize it, open Google. Then on the search bar, type the following:
[Name] site:onlyfans.com
The following screenshot shows you an example.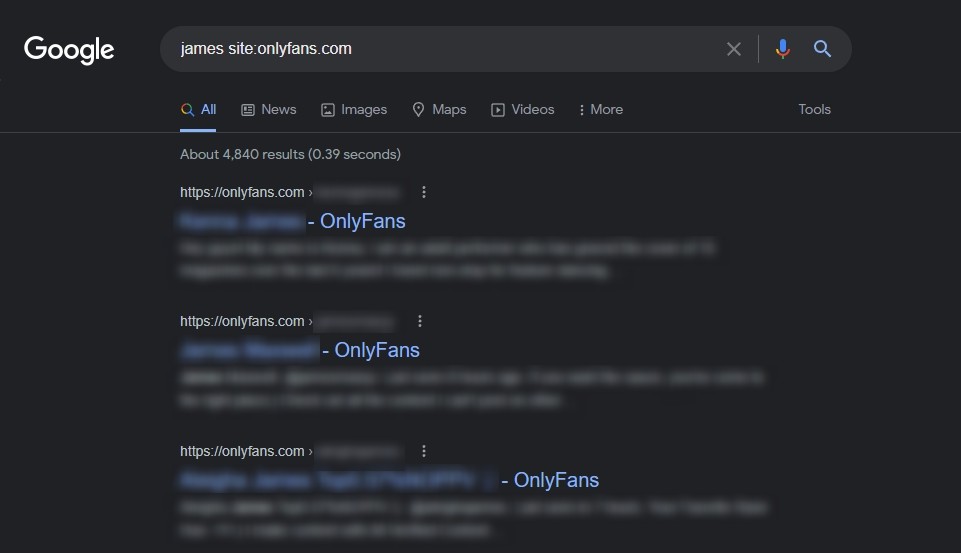 Scroll through the results and see if you can find the OnlyFans profile you want. If you can, great! But if you can't, again, don't worry! The following is the ultimate solution…
Use a people search service
A people search service or engine can help you find all kinds of information about a person, including their social media profiles. Usually, to use them, you only need to enter the name and living city and state of the target person on their search bar, and you would be able to view the social media profiles, such as OnlyFans, Tinder, Facebook, Twitter and more.
The information that can be provided with these services is not just limited to that. It might also show the person's age, address, gender, occupation, email addresses, property records, arrest records, and much more. If you're interested in know more about the person, this is a great place to start.
The following is a list of known people search service providers:
BeenVerified
Instant Checkmate
Spokeo
Truthfinder
Intelius
Hopefully the methods listed above have helped you. If you have any questions about reverse looking up an OnlyFans profile, don't hesitate to leave a comment below!