Getting banned by Omegle? In this article, we will show you a list of methods you can try to get yourself back the access to Omegle. Take a look at them below and see if they are able to help you.
Why did Omegle ban you?
Omegle may ban you because of various reasons, which include:
You get dropped or drop others too many times.
You played copyrighted music or videos in your background.
Inappropriate behaviors such as abuse or harassment.
And depending on how serious your violation is, it can result in a ban of up to 120 days, and sometimes a permanent one.
Things you can try to get yourself unbanned from Omegle
Wait for a few days
Perhaps your Omegle ban is temporary and lasts only for several days. Or your ISP may assign you a new IP address after a few days. In either case, a simple break may be enough to get you back Omegle and continue chatting there again.
Try a different network
You can get unbanned by connecting to Omegle using a different network. This allows you to have a different IP address, which can bypass the Omegle ban. You can try using your friend's network. Or turn on the mobile hotspot feature on your smart phone, and connect your device to that network.
These will set up a new connection to the Internet, and you can now access Omegle with no restriction.
Use a VPN
You can also try using a VPN to mask your own IP address and get around the Omegle ban.
Using a VPN usually requires some time and computer skills. If you want an easier option, you should try a VPN service. And we recommend using NordVPN.
NordVPN is an easy-to-use and fast VPN service. You'll be able to set up a VPN connection with just a few mouse-clicks. And its fast speed servers at multiple locations offers you a comfortable and reliable experience.
To use NordVPN on your computer:
Step 1: Download and install NordVPN on your computer.
Step 2: Run NordVPN and sign in your account.
Step 3: Click the Connect switch. This will automatically connect you to the VPN server recommended for your device.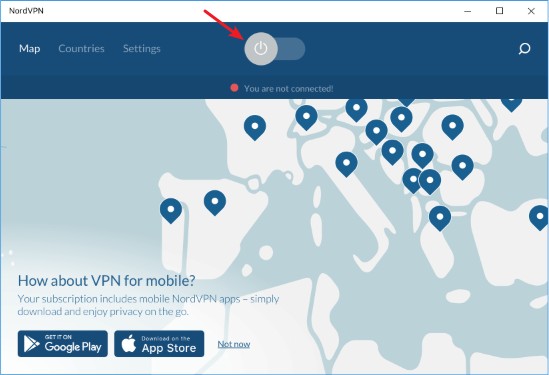 Now your VPN connection is set up, and you can see if this works to fix your being banned by Omegle issue.
Has any of the methods above worked for you? Or do you have any other effective ways to get unbanned from Omegle issue? Tell us by leaving a comment below!