Iolo System Mechanic is a Windows system clean-up and optimization utility program. It optimizes your Windows computer by clearing the redundant files, startup delays, and unwanted programs. You can also use this tool to defragment your hard drive and memory (RAM) so you'll have better performance of your PC.
Easy to use
It's easy to use Iolo System Mechanic to clean up your Windows system. Usually it only takes a few mouse clicks to run a fixing process.
The install process is smooth. This utility doesn't come with any bundled third-party program, so you don't have to pay attention to those annoying check boxes.
But you're required to activate and enter your email address to use the full features of the program. You're not required to pay to activate though, as it has a Trial version.
System Mechanic has two scan mode: a quick scan that focuses only on those basic, essential problems (e.g. junk files); and a deep thorough one that will do things like checking your registry and defrag your hard drive. Both processes are similar: If you don't want to bother with the details, then you can follow the instructions to click a few buttons. And the program will repair all the problems it has found for you.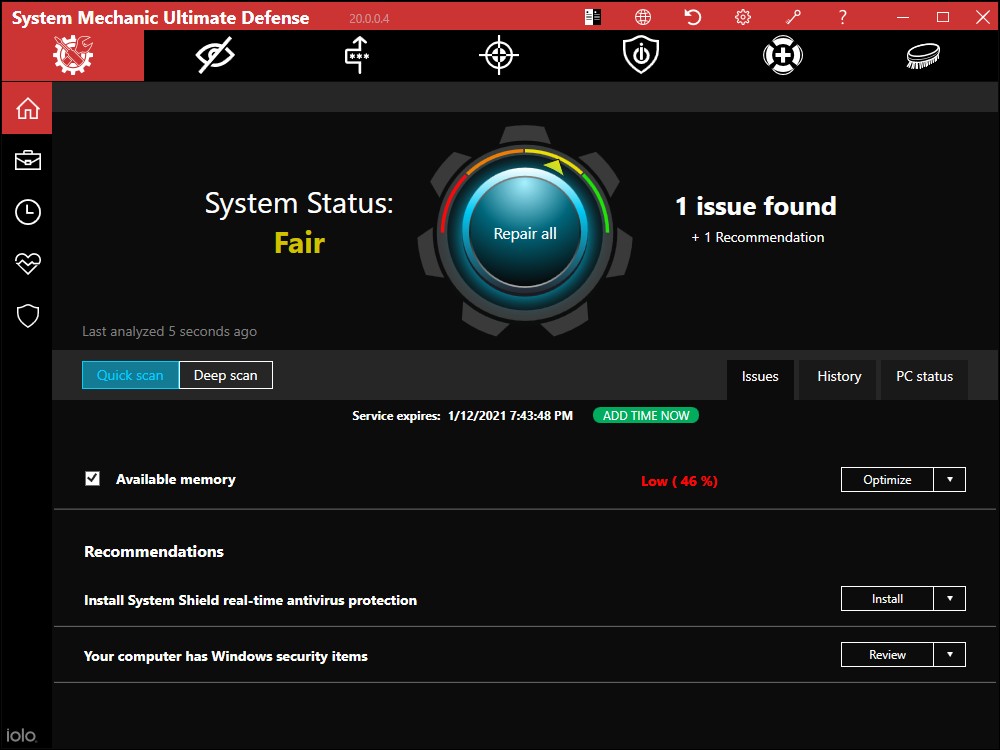 The problems System Mechanic can repair include your unwanted system temporary files, browsing data, programs that slow down the startup process, registry issues, and so on. It also detects security or privacy vulnerabilities on your system and gives you a list of options to fix them.
Ultimate features
There is a verson of System Mechanic called "Ultimate Defense", which combines all the Iolo's optimization tools into one program.
This is a powerful suite. It actually provides you with options you can adjust or use to protect your system. This suite includes:
Privacy Guradian – Protect your private information protector from being used by others (even Windows itself!)
System Shield – A protective tool that can act as an antivirus or firewall
ByePass – A password manager that secures your password and credit card information
Malware Killer – A malware detctor and remover
Search and Recover – A data recovery tool that can retrieve deleted or lost files
DriveScrubber – A data eraser that makes the erased data hard to recover

These are all handy tools. And usually it may take over $100 to get all these services from other providers. But you can get them all in System Mechanic Ultimate Defense with a price as low as $39.97.
Trial vs Paid
System Mechanic has a Trial version, which offers you its full functionalities for free for a short period of time. After that, you have to pay to continue using it.
The services of System Mechanic are billed yearly. And on the official Iolo website, the one-year license of System Mechanic is priced from $39.97.
But you can also get a better deal for these services:
Summary
In all, System Mechanic is a user-friendly tool that does its cleaning and optimization jobs comprehensively. This is helpful if you want to do troubleshooting on your Windows computer with one program. If you want an affordable one-stop utility solution, System Mechanic is a good choice for you.