Seeing the ERROR CODE -91 on your Fortnite game? Don't worry! This is a very common issue for the Fortnite players. And luckily there has been some effective ways to fix this issue. In this post, we will show you the troubleshooting tips we have collected for Fortnite error code 91. Take a look at them below and see if they are able to help you.
Check the server status
Perhaps the error occurs because the Fortnite servers are currently down. To check if this is the case, you can view the Fortnite server status on the Epic Games server status page.
If they are down, then you should wait until they fix this issue. But if they are operational, then it may not be the server issues, and you should try the other fixes, below.
Power cycle your network devices
This is helpful for fixing some network connection issues that can cause your error code 91 issue. To do this:
Step 1: Turn off your computer.
Step 2: Turn off your router and modem and disconnect them from the power source.
Step 3: Leave them for several minutes.
Step 4: Reconnect all these devices to power, and turn them back on.
Now check to see if your the error is gone and Fortnite is working properly now.
Try a VPN
This can also fix your "ERROR CODE -91" error. In fact, using a VPN can not only fix some Internet issues, it can also help you maintain a good connection to your game servers, so you may experience less connection issues.
Using a VPN usually requires some time and computer skills. If you want an easier option, you should try a VPN service. And we recommend using NordVPN.
NordVPN is an easy-to-use and fast VPN service. You'll be able to set up a VPN connection with just a few mouse-clicks. And its fast speed servers at multiple locations offers you a comfortable and reliable experience.
To use NordVPN on your computer:
Step 1: Download and install NordVPN on your computer.
Step 2: Run NordVPN and sign in your account.
Step 3: Click the Connect switch. This will automatically connect you to the VPN server recommended for your device.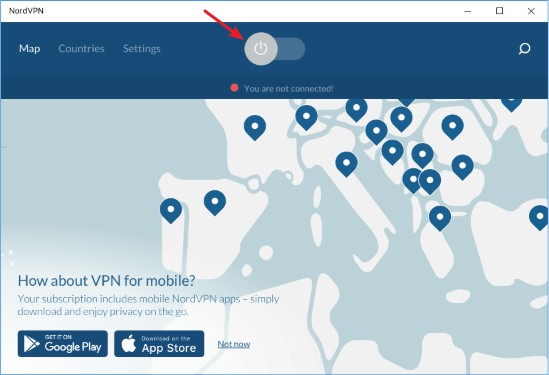 Step 4: Launch Fortnite and test your issue.
Has any of the fixes above worked for you? Or do you have any other effective ways to fix the error code -91 issue on Fortnite? Tell us by leaving a comment below!