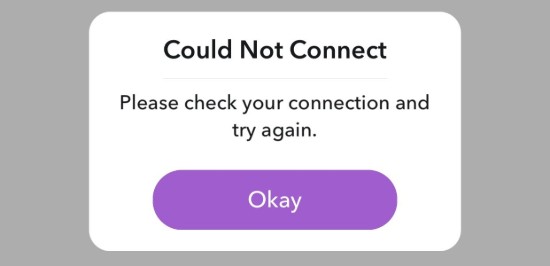 Seeing a "Could Not Connect" error on Snapchat? This is a very common issue, and a lot of Snapchat users have experienced this. And if you want to resolve this problem, these are the fixes you should try:
#1: Check if Snapchat is down
It's possble that some of the Snapchat servers are down, so you can't connect to Snapchat. To see if Snapchat is down, you can go to this website to view the status of Snapchat.
#2: Restart your device
This can usually fix temporary issues that interrupt your Snapchat connection. Just restart your device. Then run the Snapchat app to see if this fixes the "Could Not Connect" error.
#3: Check your Internet connection
It's also possible that you're having some Internet connection issue so you see the "Could Not Connect" error. There are a few things you should check:
Your network status
Is this connection issue happening only on your Snapchat app? Are you also having this issue with other apps or devices?
If your network is not working properly, then this is likely the cause of your Snapchat "Could Not Connect" error. Try restarting your router/modem as well as your device and see if this helps.
If you're experiencing any network issues that you can resolve yourself, try contacting your Internet service provider for help.
The Internet connection settings for your Snapchat app
It's probably because you haven't enabled the Inernet connection for the app, so you can't connect to Snapchat. You should go to the Settings of your device, and check your Snapchat app network settings.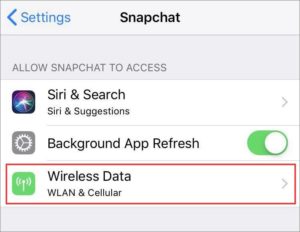 VPN
Using a VPN can be a good solution to your problem. This can help you get around the interruption of your Snapchat connection.
The VPN service we recommend is NordVPN. It is an easy-to-use and fast VPN service. Its fast speed servers at multiple locations offer you a comfortable and reliable VPN experience.
Also, NordVPN is one of the few services that has a strict no logs policy. With its military-grade encryption, NordVPN provides you with top-level security and privacy.
You can use NordVPN on multiple platforms, including your mobile devices.
Learn more about how to set up VPN on Windows…
#4: Reinstall your Snapchat app
If none of the fixes above works for you, you should try restarting your Snapchat app. This helps you repair any corruption issues with this app and reset its settings.
Is there any fix above working for you? Let us know by leaving a comment below!