VPNs are becoming more and more important in Japan. They are an excellent way to protect your privacy and security on the internet. A good VPN for Japan will help you bypass geo-blocks, maintain your anonymity online, and avoid government censorship.
If you're looking for a fast, reliable, and affordable VPN service in Japan, check out the list below. It includes several of the most popular VPNs for this country, and they should be able to be what you need.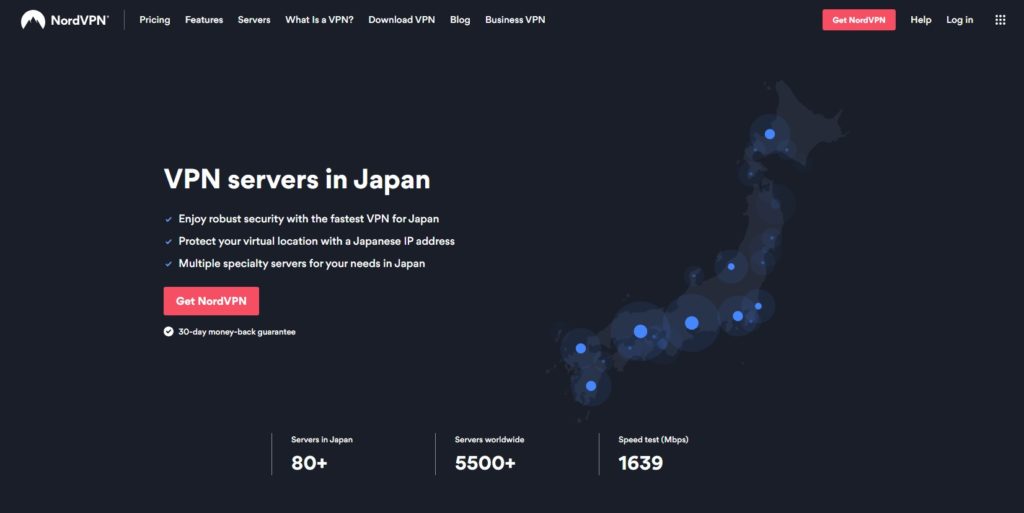 NordVPN is a popular VPN service provider for more than 10 years. It has a huge user base and offers an excellent customer service. NordVPN offers a variety of features including military-grade encryption, intuitive interface, no logs policy, and 24/7 live chat support.
Whether you want to connect to a server in Japan or view online content elsewhere from this country, NordVPN can assist you. They can create quick and reliable VPN connections to a variety of server location in the world. They have also a 30-day free trial. After registering to any of its plans, you have 30 days to request a refund if you're not happy with their services. Most of the time, they will swiftly cancel your membership and refund your entire payment.
NordVPN (Starting at $3.69/mo for a 3-year plan)
Pros:
– One of the fastest VPNs
– Military-grade encryption
– Multiple server locations
– Rich and solid features
Cons:
– Only 6 simultaneous connections at max
– Less transparent
– Price may go up on renewal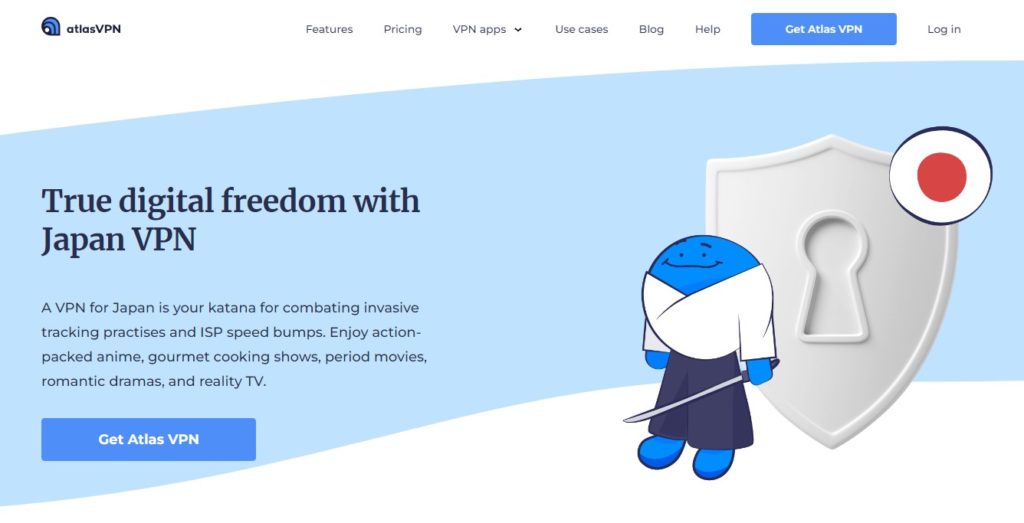 Atlas VPN has become of the best freemium VPN on the market. It uses the state-of-the-art WireGuard tunneling protocol, which can significantly speed up your connection speed. It also comes with multiple powerful features such as strong encryption, fast speeds, private logging policy, stream services unblocking and a lot more, and can work perfectly with all the torrenting clients.
Atlas VPN is one of the most known Japan VPNs. It allows you to maintain your anonymity online and access blocked online content everywhere. Atlas VPN has a free plan with 3 free server locations and a 5 GB bandwidth limit. Although it has a fast speed, you cannot use it to unblock streaming services. It also provides a 30-day free trial of their premium plans. So before you decide to buy them, you can get a taste of what they are like first.
Atlas VPN (Starting at $1.99/mo for a 3-year plan)
Pros:
– Fast for streaming and gaming
– One of the cheapest services
– Free plan available
– No simultaneous connections limitation
– P2P traffic allowed
Cons:
– Relatively fewer server locations
– No privacy audits
– No browser extension

As one of the fastest growing VPN services in the world, PrivateVPN can offer you a fast, private and safe internet experience. It is very easy to set up and use no matter what device you are using. And it works smoothly when you're using it with streaming services or on P2P file sharing. Also, your data will be secured with their military-grade 2048-bit encryption.
Private VPN has over 200 servers in 63 countries or regions. You can use this VPN service in Japan or connect to one of its servers there. This helps you protect your online privacy and unblock the content in Japan and other places around the world.
PrivateVPN (Starting at $2.00/mo for a 3-year plan)
Pros:
– Works well with Netflix, Hulu, BBC iPlayer, etc
– Fast speed
– One of the cheapest services
– 10 simultaneous connections
– Military-grade 2048-bit encryption
Cons:
– No WireGuard
– No security audits
– No browser extension

ZenMate VPN has been providing quality VPN services for a long time. It offers an extensive list of server locations and a wide range of features that allow you to enjoy your online experience without worrying about your privacy or safety, all at competitive prices. ZenMate VPN has a network of servers in over 81 countries and regions worldwide. This allows you to use it anywhere and access geo-restricted content in various countries, including Japan easily.
It has a totally free option, which is a browser extension for Chrome, Firefox and Edge. It allows you to connect to at most 4 countries and use it on only 1 device at a max speed of 2 MB/s. Note that to use this browser extension, you will have to create your own account on their website.
VyprVPN (Starting at $1.99/mo for a 1.5-year plan)
Pros:
– Unlimited simultaneous connections limitation
– Good privacy and security protection
– One of the most affordable
– P2P friendly
– 24/7 customer support
Cons:
– Relatively fewer protocols used
– Fewer customization options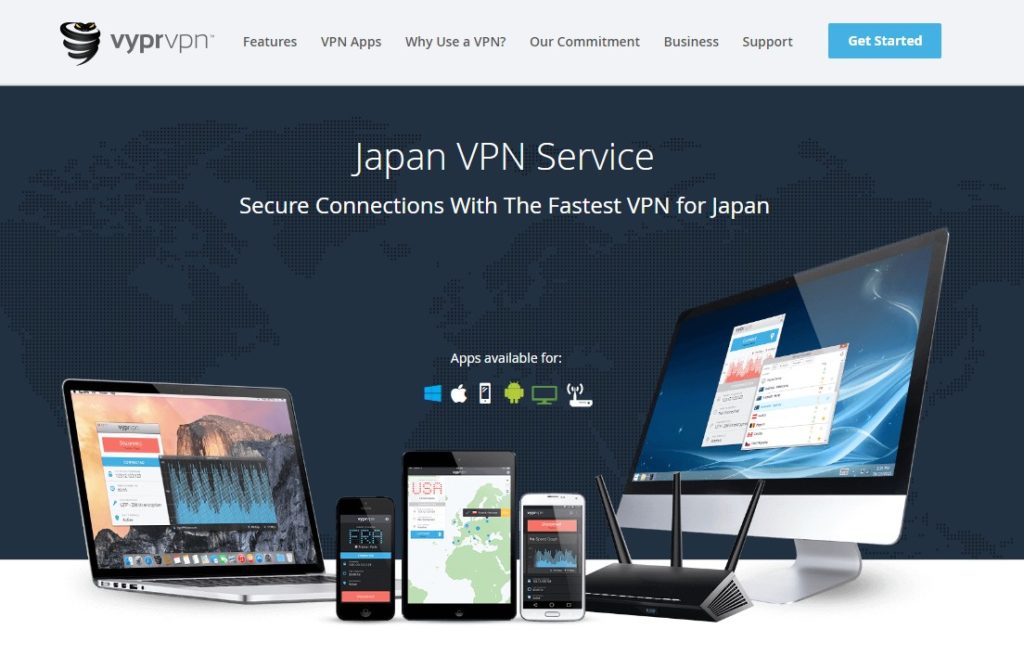 VyprVPN has been providing VPN services for years and offers a reliable and fast connection. They have a well-designed, easy-to-use software application compatible with all major operating systems. Besides, VyprVPN uses the Chameleon protocol so it can get around the blockages imposed by a lot of websites specifically on VPNs.
VyprVPN is an effective and helpful VPN for Japan. It allows you to bypass geo-restrictions and internet censorship, whether these are imposed by Japan or other countries. Also VyprVPN allows you to test out their services for free for 30 days. Therefore, you'll be able to utilize it to evaluate its genuine performance and enjoy its features.
VyprVPN (Starting at $8.33/mo for a 1-year plan)
Pros:
– Lots of features
– Uses both WireGuard and Chameleon protocols
– Publicly audited no log policy
– Works with nearly all major streaming services
– Unlimited free trial
Cons:
– A bit pricey
– Doesn't work well on Netflix in the US
– Relatively lower customer rating
Hopefully you will love any of them. If you have any questions or other recommendation, feel free to leave a comment below!