A very common issue for the Gmail users is that the email service is not loading. They can't use Gmail because of this issue. If you're one of them, then check out the troubleshooting tips below. These are the tried and true methods, and can help you repair your Gmail.
Fix #1: Check if Gmail is down
Perhaps the Gmail service is down so it's not loading. To check if this is the case, you can view the Gmail server status on this website.
If it is down, then you should wait until Google fix this issue. Otherwise, move on to the fixes below.
Fix #2: Check your Internet connection
It's also possible that you're having some Internet connection issues so Gmail is not laoding. There are a few things you should check:
Your network status
Is this connection issue happening only on Gmail? Are you also having this issue with other apps or devices? If it is your network that is causing the problem, try restarting your router/modem as well as your device and see if this helps.
If you're experiencing any network issues that you can resolve yourself, try contacting your Internet service provider for help.
VPN
This may also be the cause of your problem. If you're using a VPN and it's not working properly, your Gmail service can't load. To see if this is the case for you, try disabling your VPN on your device.
Or if you're not using a VPN, then using a VPN can be a good fix for your Gmail issue. This can help you get around the interruptions of your Gmail connection.
Fix #3: Check your antivirus software
It's also possible that your antivirus software is interrupting your Gmail connection. Try temporarily turning off your antivirus software (be careful for what you're doing on the Internet when you've done that). Then check to see if this helps you restore your Gmail connection.
Fix #4: Clear your browser cache
This is another effective fix to restore Gmail.
Note that this may log out of and reset the settings on the website you've visited. And some websites may load more slowly the next time you visit them.
Step 1: On your browser, press the Ctrl, Shift and Del keys.
Step 2: Set the time range to cover all your browser data, then select cookies and cache to delete.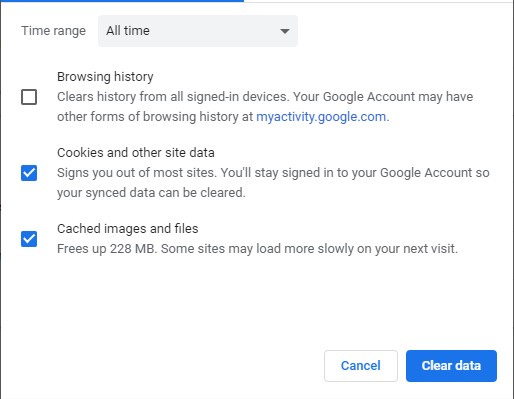 Step 3: Click the clear button to clear these data.
Now see if Gmail starts loading.
Fix #5: Check your browser extensions
Perhaps the interruption of your Gmail service comes from your web browser extensions. You should try disable all of them temporarily and see if this resolves your problem. If so, then try enable them one by one to identify the extension that is causing the problem.
To view and manage your extension:
For the Chrome browser, enter chrome://extensions/ in the address bar.
For the Firefox browser, enter about:addons in the address bar.
For the Edge browser, click ··· at upper right and select Extensions.
Has any of these fixes worked for you? Let us know by leaving a comment below!