You may have seen, or used, the command sfc /scannow to fix your computer problems. But do you know what it exactly is? Here in this post, we'll show you what this command is all about, and how to use it properly.
System File Checker
SFC in the command actually means System File Checker. This is a built-in utility of the Windows system. System File Checker scans the essential files in your Windows system and verify their versions. If it finds an issue with any file, it replaces it with the good one from a repair source (located somewhere else in your system). With this, it helps you resolve the problem related to these files.
What files does it repair?
It repairs files essential for the start-up and shut-down of your Windows system, as well as the registry keys and folders.
It doesn't repair files other than those mentioned above, including the files added to your system drive after the installation of a program. It doesn't touch your personal data either.
How to run System File Checker?
Step 1: Press Win and R.
Step 2: Type cmd and then press Ctrl, Shift and Enter.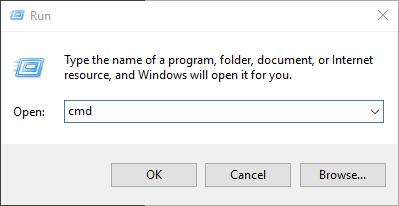 Step 3: If you are on Windows 10, run:
dism.exe /online /cleanup-image /restorehealth
If your Windows Update is not working properly, then connect a Windows installation media to your computer, and run:
Note: Replace the label [drive] with the drive letter of your installation media.
dism.exe /online /cleanup-image /restorehealth /source:[drive]:\sources\sxs /limitaccess
Step 4: Run:
sfc /scannow
Step 5: When the process finishes, restart your computer.
Is this post helpful for you? Or do you have any questions or suggestions? Leave us a comment below!